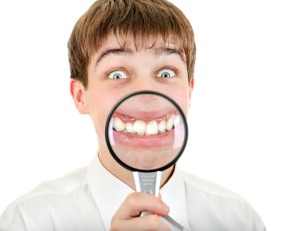 The following article talks about ten things that could be bothering your dentist. Read on to learn more, and thanks for visiting us at Personal Endodontics of Troy, MI.
Find out what your doc is really thinking when it comes to your teeth.
For some reason — maybe it's the loud drills or uncomfortable mouth contortions — a visit to the dentist isn't the most pleasant way to spend an afternoon. But if you think it's all fun and games for your doctor, think again. There are plenty of things that you're doing that aren't making your dentist smile. We talked to a bunch of docs to get the scoop on everything they wish you would consider before you arrive in their chair. Read on to improve your teeth health know-how and to make your next appointment that much more enjoyable.
1. You probably aren't brushing enough. "Most of my patients brush for less than a minute, leaving about half of the overnight plaque behind," says Robert Gerlach, DDS, MPH, a research fellow in Worldwide Clinical Investigations at Procter & Gamble. His advice: Brush for at least two minutes, twice daily and change your toothbrush every three months to get the best at-home care.
2. Oral cancer is one of the most deadly types of cancer. According to New York City–based dentist Lindi Orlin, DMD, most people don't notice warning signs of oral cancer — like lesions — in their mouths. "If patients have red bumps or spots in their mouth, they often ignore them, which can lead to much more serious problems down the line." So if you see something, no matter how small, say something to you dentist.
3. Take off your lipstick! "Lipstick is always a disaster," says holistic dentist Victor Zeines, DDS, author of "Healthy Mouth, Healthy Body". "People come in and don't think to wipe it off, and some almost get offended when I ask them to do so. But it gets all over my gloves, your teeth and everything we're trying to do."
4. Sometimes exercise can contribute to dental problems. Sure, breaking a sweat is great for your health, but you also need to be conscious of the ways that it can impact your smile. "Vigorous exercise can cause dehydration and limit the protective role of saliva, which can put you at a greater risk for cavities and bacterial accumulation," says Gerlach. "Also, many sports drinks are unexpected sources of sugars and acids, which can erode tooth enamel." So, stick to water — and plenty of it — when you hit the gym.